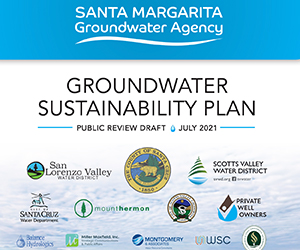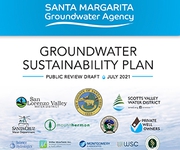 Under the Sustainable Groundwater Management Act, one of the key responsibilities of the Santa Margarita Groundwater Agency (SGMWA) is to develop, adopt, and submit a Groundwater Sustainability Plan (GSP) for the Santa Margarita Groundwater Basin (Basin). The Basin forms a roughly triangular area between Felton, Ben Lomond and Scotts Valley. This Basin provides drinking water for the Scotts Valley and San Lorenzo Valley Water Districts, over a dozen small water systems and around 1,100 parcels served by private wells. Additionally, the groundwater table influences the surface water in the San Lorenzo River, a primary drinking water source for the city of Santa Cruz and home to endangered species.  
The Basin's GSP is due to the California Department of Water Resources by January 31, 2022.
SMGWA member agency staff, with support from consultants and input from Basin stakeholders, prepared the draft GSP. The Board of Directors reviewed the draft Groundwater Sustainability Plan on Thursday, July 22, 2021, and opened the 60-day public comment period. Please explore the draft GSP and share your input.